By Content Editor
28 September 2021, 23:30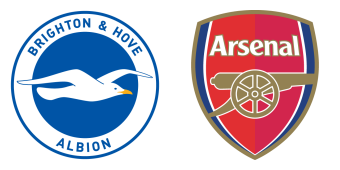 After a stuttering start, the convincing 3-1 victory over North London rivals Tottenham Hotspur may be just what Arsenal needed to kickstart their season. All of a sudden their start doesn't seem so terrible, with three opening defeats in difficult fixtures followed by three consecutive victories to catapult the team to the top half.
A potential early turning point for the season?
Every Premier League season never fails to be long and difficult, with no easy fixtures along the way. Not least in this case Brighton & Hove Albion, who have proven themselves one of this season's early surprise packages with four wins from their opening six games; a better current record than their opponents here.
So make no mistake: Arsenal won't relish this tough away trip as they seek to continue the momentum gained from their recent derby win. This may in fact be the biggest game of the season so far for both clubs. Brighton as they look to prove their true credentials to make a splash in the top half of the league this year; Arsenal if they wish to get their challenge for a European spot back on track.
Arteta's plan starting to come together
After facing criticism in the first couple of weeks of the season, with some fans thinking his time in charge was numbered, manager Mikel Arteta's plan to build his own squad at Arsenal may be emerging. Against Spurs, Emile Smith Rowe (21) and Bukayo Saka (20) both scored, showing a strong youthful backbone to the current team.
New signings Aaron Ramsdale and Martin Odegaard also starred in that win, while former Brighton man Ben White continues to gain experience in the Gunners defence and Aubameyang looks set to strengthen his claim for the Premier League's golden boot in the wake of Harry Kane's dip in form.
It won't be an easy path to victory here, but Arsenal are showing signs of a team that may just get better as the year goes on. Perhaps Arteta has learned a thing or two from club legend Arsene Wenger and may even hope to build a similar legacy in the years to come - providing this season continues showing signs of promise.
Match Predictions, H2H
Brighton form
:
D
W
W
W
L
W
W
W
Arsenal form
:
W
W
W
W
L
W
L
L
Last matches of Brigthon:
| | | |
| --- | --- | --- |
| 2021-09-27 | Crystal Palace - Brigthon | 1-1 |
| 2021-09-22 | Brigthon - Swansea City | 2-0 |
| 2021-09-19 | Brigthon - Leicester City | 2-1 |
| 2021-09-11 | Brentford - Brigthon | 0-1 |
| 2021-08-28 | Brigthon - Everton | 0-2 |
| 2021-08-24 | Cardiff City - Brigthon | 0-2 |
| 2021-08-21 | Brigthon - Watford | 2-0 |
| 2021-08-14 | Burnley - Brigthon | 1-2 |
Last matches of Arsenal
| | | |
| --- | --- | --- |
| 2021-09-26 | Arsenal - Tottenham | 3 : 1 |
| 2021-09-22 | Arsenal - Wimbledon | 3 : 0 |
| 2021-09-18 | Burnley FC - Arsenal | 0 : 1 |
| 2021-09-11 | Arsenal - Norwich City | 1 : 0 |
| 2021-08-28 | Manchester City - Arsenal | 5 : 0 |
| 2021-08-25 | West Bromwich - Arsenal | 0 : 6 |
| 2021-08-22 | Arsenal - Chelsea | 0 : 2 |
| 2021-08-13 | Brentford - Arsenal | 2 : 0 |
Arsenal vs Brighton H2H
| | | |
| --- | --- | --- |
| 2021-05-23 | Arsenal - Brighton | 2-0 |
| 2021-12-29 | Brighton - Arsenal | 0-1 |
| 2021-06-20 | LBrighton - Arsenal | 2-1 |
| 2021-12-06 | Arsenal - Brighton | 1-2 |
| 2021-05-05 | Arsenal - Brighton | 1-1 |
Live Arsenal says: Brighton 1-1 Arsenal

More news about Brighton vs Arsenal

SHARE :