By Content Editor
13 September 2021, 07:20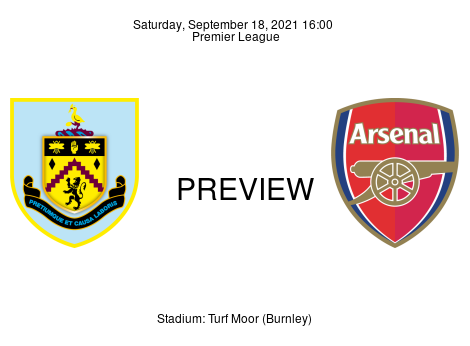 A week on from the nervy 1-0 win over Norwich City that has somewhat eased the immediate pressure on manager Mikel Arteta, Arsenal face another team who have endured a difficult start of their own; Sean Dyche's Burnley.
Another Tough Away Day
Burnley may be expected by some to struggle this season, perhaps more so than in recent years, but that's not to say anyone should underestimate them when they have the backing of fans at their compact Turf Moor stadium. Many 'bigger' clubs have tasted defeat here in the past, including Arsenal themselves.
Sean Dyche's men will take further confidence from the fact that newly promoted Brentford were able to beat Arsenal so comfortably on the opening day. For the Gunners, this represents the latest in a troubling set of fixtures, made even more so by them being expected to win it and potentially heaping on the pressure again if they don't.
Burnley desperate to kickstart their campaign
Much as Arsenal will be favourites here, Sean Dyche has a unique pressure of his own to cope with. Considered a certified hero at the club thanks to his achievements in keeping Burnley in the Premier League year after year despite a modest budget, he faces another stern challenge to do the same this season.
It certainly isn't beyond his efforts, but the league seems to have improved this year and once again Burnley haven't done much to bolster the squad. Clubs like Brentford will happily take their place in this league if the Clarets drop the ball. A win against Arsenal would go a long way to prevent growing concerns.
Aubameyang ready to spearhead a strong attack
Having finally gotten off the mark in the Premier League against Norwich and with a couple bagged in the EFL Cup already, Pierre-Emerick Aubameyang is once again looking like he could be Arsenal's talisman for goal scoring this season. The club have of course been famous for silky football but so far struggled to emulate that this season.
It won't be easy to play their own way against
Burnley
, but this is another test that presents an opportunity to impress fans and silence the doubters.
Live Arsenal says: Burnley 0-1 Arsenal