By Content Editor
03 September 2021, 10:43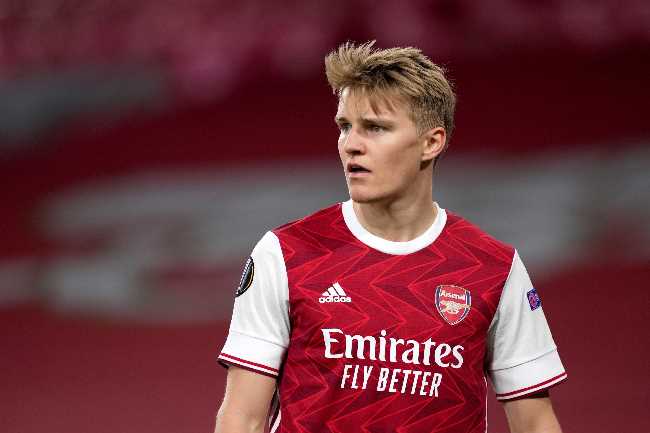 @Icon Sport
Going 4from Spanish giants Real Madrid to Arsenal may raise a few eyebrows considering the position each club currently finds themselves in (Madrid still in the Champions League; Arsenal without any European football at all for 2021/22), but for 22 year old Norwegian Martin Odegaard it could turn out to be the perfect career move.
Setting records from a young age
Back home in Norway, there are few football fans who won't know the name Martin Odegaard. This is primarily because he became the youngest debutant for the senior national team in August 2014, at just 15. Just two months later he also became the youngest player to feature in a major European qualifying match with Norway. He would go on to be named captain of the side in March 2021 and would appear to have a long international career ahead of him.
To be successful at international level, of course, it is a common belief that you need to be playing regularly for your club team. This has undoubtedly influenced Odegaard's career choices, as he struggled to break into Real Madrid's first team during his time there.
Multiple loan spells before arriving in North London
While unable to establish himself as a core part of the Real Madrid team since his arrival there in 2015, Odegaard caught eyes elsewhere. In January 2017, he joined Dutch club SC Heerenveen in what would be a successful 18 month loan spell before moving to another Dutch club, SBV Vitesse, for the 2018-19 season.
The following year he moved back to Spain, joining Real Sociedad for another season-long loan that culminated in the club reaching the 2020-21 UEFA Europa League via an impressive 6th placed league position. Another brief return to Real Madrid followed, but struggles to become a regular part of the first team during the final months of 2020 led to another loan in January 2021.
This time it was to Arsenal, where he would impress in various games. This included goals against Olympiacos in the Europa League's Last 16 stage and against North London rivals Tottenham Hotspur - a surefire way to ensure popularity with local fans. The permanent signing of this creative young attacking midfielder could be just what the Gunners need to recover from their stuttering form as of late.